BOB AND MARY MASON
Saugatuck Retirees Who Made a Difference
March 19, 2011
<![if !vml]>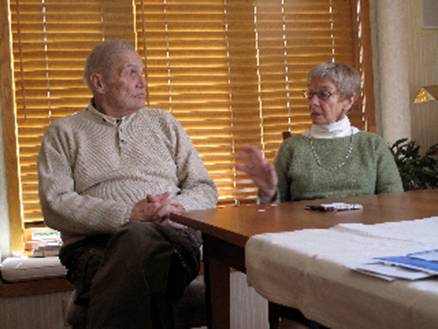 <![endif]>
Charlaine and I met Mary and Bob for their oral history interview in their Grant Street home of almost 30 years. The interview was hastened by the news that they were leaving Saugatuck to live in an assisted living community near Chicago where they would be closer to family.
This interview was done in three parts:
Chapter 1 covers Bob and Mary's lives up to their retirement move to Saugatuck. This includes their early influences, schools, meeting in college, career activities, their three daughters, Mary's volunteer and work activities, Bob's significant law career, and their Great Lakes sailing adventures.
Chapter 2 covers Bob's decision to leave the practice of law and try his hand at running a business in Holland, MI. It includes the extensive involvement of both Bob and Mary in numerous community developments including dunes conservation, library support development, historic preservation, and interface with several boards for which Bob constructed bylaws. In addition, Mary worked hard for the preservation of a Democratic party in Allegan County. Bob's description of the Dennison south property purchasing struggle is especially enlightening.
Chapter 3 contains powerful statements made by both Bob and Mary about the future challenges of the Saugatuck area.
Dune Conservancy
Lake Kalamazoo cleanup and dredging
Area government consolidation
Historical preservation
This chapter was put on a separate DVD because an early indication of requests for copies from interested groups and individuals.
John R. Shack