CARL EDGAR WICKS AND JEANETTE BUSHMAN WICKS
Interviewed Wick's Douglas Home 9/16/08
John & Charlaine Shack
The following autobiographical material was largely prepared by Carl Wicks and edited with additional information by John Shack placed in [ ].   
Photos of Carl and Jeanette (Jean).
<![if !vml]>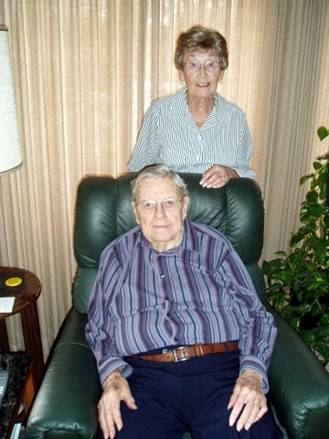 <![endif]>
I was born in Douglas, Michigan, on April 4, 1921.  I went to the Douglas Elementary School on Center Street from grades one through eight and from there went to Saugatuck High School and graduated in 1939.  I then attended Western Michigan College of Education [now Western Michigan University] for one year and played golf for the school team.  I had to withdraw after a year because of the need for hernia surgery.
In the Spring of 1941, I got the opportunity to go to work sailing [on oil tankers] on the Great Lakes [in various technical and engineering capacities], which I did for 13 years steady and four years in relief. In 1944 I went to Maritime School in New London, Connecticut.  I was graduated with an engineer's license and was shipped to California.  There I began my ocean sailing.  My first trip was as second engineer to Hawaii which lasted six months.  My second trip in the Pacific lasted 13 months to the day after docking at 32 different ports and hauling many different cargos, returning via the Panama Canal and ending in Norfolk, Virginia.  After a six weeks leave, I sailed from New Orleans and made a five month trip to Antwerp, Belgium and back to New York, ending my career in the oceans.  [Carl tells a story of a near miss by a Japanese torpedo while sailing in Bougainville Strait in the South Pacific during the war.  Because his ship was carrying no freight its draft was high, allowing the torpedo to go harmlessly beneath. It was during this time in the Pacific that Carl accidentally met a friend, Bob Warren, from Fennville.]
In April, 1946, I went to work for Standard Oil on the tanker Red Crown in the Great Lakes.  In 1947 I went to work for Hutchinson Company on the McGeon, which I had to quit in June for health reasons.  In 1948 I went to work for Texaco.  I got married in 1949 […to Jeanette Bushman whom he met in1948 in  a Wisconsin port on a blind date.  They will be married for almost 60 years].  I quit at the end of 1953 after buying Hickory Hills Country Club in Chilton, Wisconsin at an auction.  We opened there in February 1954 and ran that [course] until January 1960 when we moved to West Shore Golf Club in Douglas.  I bought West Shore at my 20 year high school class reunion in the summer of 1959 from Harry Randle who had previously owned a golf course in Chicago. [When asked how he was able to finance these golf course purchases, Carl explained that he made very good money as a ship engineer with no opportunity to spend, so he saved a considerable amount during his maritime career.]
[In 1962 Carl and Jean bought a 4-place Stinson Voyager airplane which they both flew until the birth of their son, Dana.  The Wicks moved from their West Shore CC home many years ago to a lovely house situated on Wade Bayou with water views from every window.  Carl can still be found at West Shore many days playing cards with local friends.]
About West Shore CC
West Shore CC was an old orchard from which the golf course was created by George Kingsley in 1916.  George Ferry, who owned a small 9-hole sand green golf course at Ferry and Campbell Road, helped to design and build the first 9 hole course at West Shore.  Part of the original house on the property was remodeled into a 10 room lodge near the clubhouse.  I caddied at West Shore from 1931, when the club was expanded to 18 holes, until 1936.
The building across from the golf course (Center and Ferry) was a restaurant and gas station.  I ran the gas station during the summer of 1936.  Mrs. Heisted ran the restaurant in the 1960s.  Now that property is owned by West Shore.    Jesse Owens, Ralph Metcalf, and Duke Slater, all athletes who competed in the 1936 Berlin Olympics, were some of the notables who played our course. 
[Carl was very active in the community. He served five terms as village president of Douglas and three terms as village trustee.  In 1975 he was appointed to the Saugatuck advisory board of Citizens Trust and Savings Bank by the bank's board of directors. He commented that during his time in office the village acquired Schultz Park and boat ramp and installed sewers in the village.]
Family Genealogy  (see "The Wicks Family: From the Wicks family Bible" for more detail)
[Carl was the second oldest of four boys of William Fernando Wicks (1885-1960) and Sarah Coxford (1893-1968).  His brothers were Robert Dickson Wicks (1916-1992), Jack Harris Wicks (1928-1996), and Frank Arthur Wicks (1930-2007).  The family's earliest recorded ancestor is Fernando John Gottlieb Wicks (1824-1906) who married Anna Christine Friederke (1826-1904).
Carl and Jean have three children:  Paul (1954) with grandchildren Megan (1987) and Gregory (1990); Carla (1956) with grandchildren Jared (1986) and Kyle (1989); Daniel (1967). Daniel won a gold medal in golf at the 1995 International Special Olympics held at the Yale University Golf Course in New Haven, Connecticut.
Carl further  reported that his grandfather, Fernando Wicks (1857-1929)had been the night supervisor at the Douglas Basket Factory. ]