FRANK LAMB--Oral History Narrative
<![if !vml]>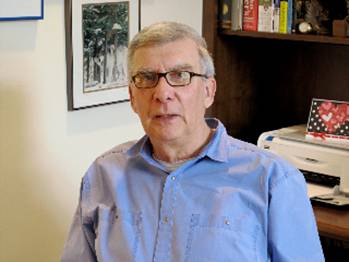 <![endif]> <![if !vml]>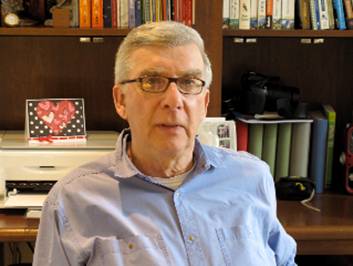 <![endif]>
<![if !vml]>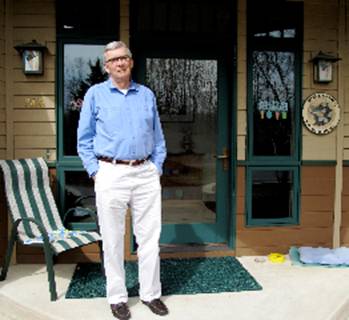 <![endif]>
Frank is easy to locate. Since retiring in 2007, his tall ramrod slender frame and long-legged stride set him apart on Saugatuck-Douglas area streets or beach dune trails as he hikes jogs or bikes on his daily physical conditioning regime.  His love and knowledge of the local dune lands runs as deep as his need for physical activity and both stimulate his travel adventures to more remote places of natural beauty.  The thoughtfully designed  home that he shares with his wife Joan and four or five cats is filled with pictures of nature, maps and travel books.  While generally quiet and conservative in his demeanor, Frank's passions run deep in the defense of friends, family, and the natural environment. 
In 1940 Frank was born in Community Hospital (now the Kirby House on Center Street) and remained the only child in his family.  His parents, Leonard and Emily (Urban) Lamb, settled in the area after marrying.  His father grew up and went to school in the Glen area, attended the University of Michigan and subsequently worked in real estate. Leonard passed at age 53 when Frank was 12.  As a hunter and avid outdoorsman, he left Frank with a love of nature.  His mother had previously created the Hollyhock Restaurant serving breakfast and lunch in a building that has since been incorporated into the south end of Marro's Italian Restaurant on Water Street.  Emily, in addition to being a successful businesswoman, was also an artist known for her block prints.  The Restaurant building was also Frank's home until he left for college and the Service.  He remembers Saugatuck winters when he and a few neighbors had the unlit downtown town to themselves.
Saugatuck Elementary and High School was the focal point for Frank's intellectual foundation and social activity, spending 12-13 years with the same small group of students.  He's able to identify the whereabouts of many of his classmates, especially those who remained in the area.  He recalls the Saugatuck Elementary School burning in 1950 when the surviving gym and local homes had to be used for temporary classrooms. Summers at Oval Beach with friends, and Saugatuck downtown hangouts are among his favorite memories.  Mostly, in an age without digital distractions, Frank played outdoors year-round.  Tobogganing and skiing on huge wooden skis that strapped to your regular shoes occurred near the second hole at West Shore Golf Course, much as it still does.  Art and Nancy Francis (owners of Francis Foods on Butler Street) and their three sons, Guy Rex and Mark, lived just north of the golf course and provided a respite from the slopes. When not playing in the dunes or basketball court, Frank could be found at the Soda Lounge.  He recalls how Mike and Vera Kenny and Ruth Wright created this store that served as an informal "youth center" on Butler just south of Kilwin's ice cream parlor.  At Christmas time the owners would throw a party with free food and drinks for area young people.
Frank's favorite teachers during his elementary school years were Mrs. Knox, Mrs. Martin, Mrs. Waugh and Mrs. Loretta Biller.  He recalled how Mrs. Biller would bring cultural artifacts from Grand Rapids museums to her geography classes, and how she would manage misbehavior with firm grip on the offender's scruff of the neck.  Being tall and disciplined, Frank played three years of varsity high school basketball during several successful team seasons.  He was also a member of the Student Council. 
In his late teens, Frank spent a summer rowing the ferry that replaced the actual chain ferry from 1950-67, sharing the job with John Sanford who was then a summer visitor.  He also worked as a night clerk at Coral Gables. In 1958 Frank began classes at Michigan State University.  Not having a clear direction his majors went from education to landscape architecture to hotel administration before he dropped out for a breather.  With the Viet Nam war period draft, Frank entered the Army and did his basic training at Fort Knox and was subsequently sent to Bangkok, Thailand to serve for 14 months as an intelligence specialist.  This total of a three years respite and broader life experience helped him recognize his innate skills which he then put to use to complete his degree in General Accounting at MSU. 
While finishing up at college Frank began a part-time job with Lloyd J. Harriss Inc., the frozen pie manufacturer in Saugatuck, a very short distance from his home.  When he graduated from MSU in 1967 he stayed on at Harriss full-time until 1983, remaining through the years the company changed hands rising through the ranks to become a Senior Vice President.  He tells how Mr. Harriss, who began the business as a small enterprise with his wife, refused to visit the factory again after the teamster union was voted in by his employees, whose needs he felt he had been sensitively meeting. 
Frank finished up his career at J.B. Laboratories, Inc. in Holland where he served as the President until 2007 when he fully retired.  J.B Laboratories is a contract pharmaceuticals manufacturer founded in 1978.  Since retirement Frank devotes his time to remaining physically active with running, hiking, biking and skiing.  Traveling to places of natural beauty in the US and abroad and serving as a volunteer reading mentor for local primary grade children also fills his time.
There are numerous Lamb relatives living in the area including the children of Frank's uncle L. W. Lamb who built the current Saugatuck-Douglas Bridge in 1936.  Frank has two daughters, Laura and Paige, who graduated with both athletic and student leadership accomplishments from Saugatuck High School.  He has six young grandchildren.