Video digital narrative and photos
Interviewer/director: J. Shack
HENNING CHRISTIANSEN
Violin Maker and Former Saugatuck Resident
Interviewed 5-13-09
<![if !vml]>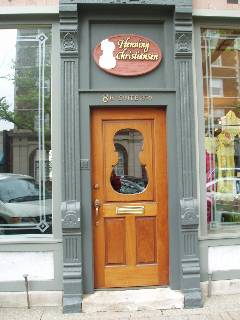 <![endif]>
Shop outside door on 8th St.
The door at #8 East 8th Street in Holland is a throwback to a Copenhagen city street entrance to an artisanís workshop.† An elegant carved wood sign above announces Henning Christiansen with a violin base, echoed by a violin-shaped window on the door itself. A group of Japanese school girls on tulip time tour were recently found taking each otherís picture, faces framed inside the violin shaped glass.
Up a long staircase to the shop were framed photos and artifacts reflecting the work and times of the violin maker within.† Just outside the upstairs door was a register book with names and addresses of visitors from far and wide.† Inside was bright with windows framing tops of trees and the smiling greeting of Marilyn Van Leer, Henningís long-time associate.† Henning himself was hard at work building a new violin and repairing an old one.† He seemed pleased to have the opportunity to share his personal and craft history.
Henning was born in Copenhagen, Denmark, in 1928.† When he was 14 in 1942, his father introduced him to a violin maker with the plan that Henning would serve a five year apprenticeship and then find employment in this craft.† Henning trusted that his father recognized his sonís attributes as a good match for this occupation, but it was possibly also a safe situation for an adolescent to be during the German occupation of that time.† Henning remembers having to build wood shaving tools in various sizes during this time from scrap metals, tools that he uses to this day.
After his apprenticeship ended in 1948 along with the war and occupation, he decided not to pursue work in Europe but instead he immigrated to the USA and eventually a position in Chicagoís Lyon Healy Music Corporation doing violin building and repair.† Over the years he worked his way up into management.† After the WWII, Lyon Healy had the only major harp construction business and Henning developed a harp maintenance workshop for harpists to learn to service their own instruments. Interest in this idea spread quickly and took him to many parts of the US and world.† Subsequently he became the president of the Lyon Healy Corporation.† Marilyn Van Leer, a native Chicagoan worked in the company office and eventually for Henning.† This relationship continues to this day.† Henningís reputation with the construction, repair and maintenance of string instruments runs deep and broad.
When Lyon Healyís was purchased by CBS, Henning became disillusioned and parted to practice his trade independently with Marilynís help.† After setting up a shop in Chicago, he discovered the beauty of Saugatuck.† An avid sailor, he built and purchased increasingly larger sailboats which, for many years, he kept in Chicago harbors and, eventually, on the Kalamazoo River.
He opened a violin repair shop in Saugatuck on Butler Street, where he remained for three years.† During this time he co-developed the Saugatuck Chamber Music Festival and made numerous friends.† The accessibility of his shop on Butler often kept him from his work and, after three years, he decided to move his business to Holland.† Now in his 80s Henning enjoys keeping his hand in his craft and looking forward to his next repair challenge.† Both he and Marilyn were extremely gracious and seemed to enjoy our trip through their lives.
<![if !vml]>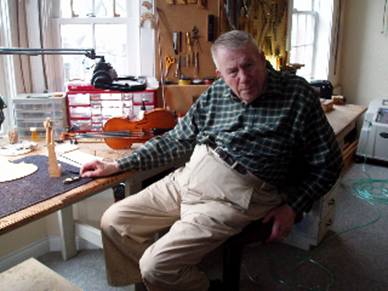 <![endif]>† <![if !vml]>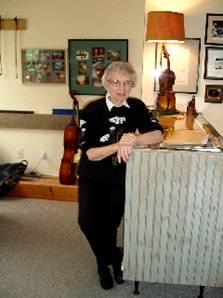 <![endif]>
photo notes: Henning Christiansen and Marilyn Van Leer in Holland shop
(Note: Mr. Christiansen died Wednesday June 30, 2010. To see his obituary go HERE)