James Brandess
Saugatuck Artist
1/10/11
<![if !vml]>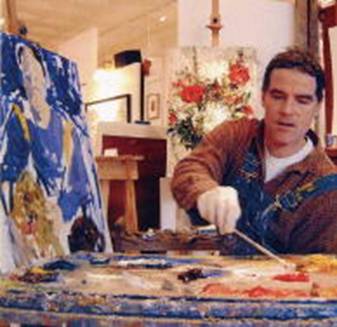 <![endif]>
Gallery
Jim Brandess met me for a SDHS oral history on a cold January day in his Butler Street studio. Together with Marley, his sociable dog, we talked amid his paintings to record his personal and professional history.
A man of few surplus words, Jim managed to summarize his life in about 25 minutes. He grew up in Highland Park, Illinois where he attended grade and high school. Early he was interested in design, architecture, and creating pictures of people. Jim was accepted in the architecture program at Illinois Institute of Technology, but he rejected this opportunity. He entered Columbia College in Chicago to study photography, but he disliked dealing with the developer chemicals. This was followed by a stint at the Harrington College of Design a few blocks away. Finally, Jim crossed Michigan Avenue and entered the Chicago Art Institute's School of Art and found his way to its Ox Bow summer school.
Jim's painting interest in landscape was encouraged by a watercolorist on the faculty who urged him to paint nature scenes outside. By showing him how to appreciate the space ground as well as the figure when painting trees and other flora.  He recalled finding interesting stands of trees on Chicago's lakefront to paint in diverse weather conditions.
A critical tuning point in his life was when The Chicago Art Institute offered him a maintenance job at Ox Bow that included his tuition, room and board for a summer. Here he met and was influenced by numerous master artists, including Ed Paschke. It may have been Paschke's principles of abstraction and expressionism that particularly influenced Jim's work. The Ox Bow lagoon and environs provided vast amounts natural subject matter with amazing changing colors to serve his painting needs for many years. He graduated from the Art Institute in 1989. Portraits of Saugatuck personalities comprise another favorite subject for his work. He's done a 300 item Saugatuck portrait collection exhibit.
After a work-study experience on Brooklyn NY, Jim returned permanently to Saugatuck. His local studio environment began in a cozy space above the Butler Pantry. In the early 1990's, he purchased the Post Office building on Butler Street which it now serves as his studio and gallery. Jim has created a very versatile retail business for his excellent reproductions. He can be seen working in his studio from the sidewalk as an enticement to enter for a look at his range of works that include many applications of his oil work's digital reproductions.
In addition to his artistic and business activity, Jim for many years has been a regular reading tutor for the Saugatuck Elementary School's LIFT program.
John Shack
1/10/11
<![if !vml]>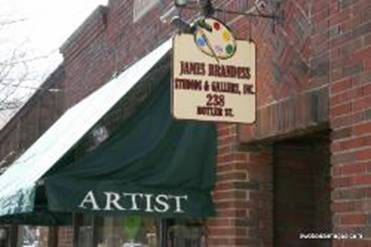 <![endif]>
Jim_Brandess_Saugatuck

<![if !vml]>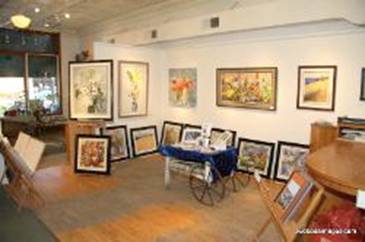 <![endif]>
brandess_gallery1