JANET BOGART WOLBRINK
Interviewed 9/02/08 and Video Recorded 9/12/08
by John & Charlaine Shack
<![if !vml]>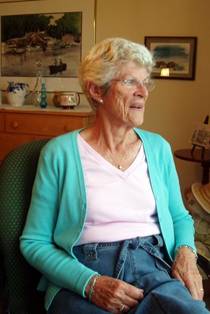 <![endif]>  <![if !vml]>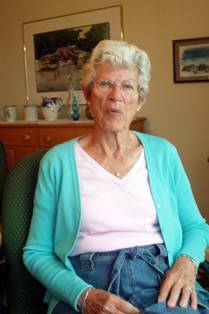 <![endif]>
We met Janet in the parking lot of Singapore Condominium from where she ushered us into her home.  She began sharing her memories with us almost immediately. Her stories were as rich and colorful in description and emotion.  When we learned about her work as an oil and watercolor painter, we realized her personal stories were word paintings created with broad background strokes and clusters of focused detail to create a coherent image.
Janet Bogart Wolbrink's Saugatuck-Douglas area story begins when she chose to leave her home in New York's Long Island for Hope College in Holland, Michigan.  She reports that her choice of college was influenced by her father's wartime service connection to a Dutch Reformed clergyman on St. Thomas, Virgin Islands, that led to joining a Reformed Church of America in Long Island and, thus, the fortuitous Hope College recommendation.  Janet had already shown a strong interest in the visual arts and was considering the Rhode Island School of Design after high school.  Her practical father, however, strongly urged her to major in business in college so she wouldn't "starve to death".
Hope College students in the late 1940s, on average, were more religiously conservative than her, Janet commented, allowing that she "had more freedom and fun" than many of her classmates.  While at Hope she had a job in the City Hall.  One March day a young man asked her for directions to the Municipal Court department where he needed to pay a parking fine.  She recognized Bob Wolbrink, to whom she gave directions, and subsequently they struck up a dating relationship. By June they were married. 
Robert Wolbrink was born in Ganges where his grandfather, Orin Wolbrink, had settled and purchased the general store and adjoining home in 1906 from Benjamin Eddy (see Eddy bio link).  Bob graduated from Holland High School and served in the U.S. Army Air Corps during WWII.  As a bomber pilot he was shot down over Japan and interred in Russia until the end of the war. 
Bob's maternal grandfather and uncle were physicians in Ganges, living in a huge house east of the Ganges general store.  Janet related how this father and son medical team would travel many miles in horse-drawn wagons to deliver babies and care for sick patients, often being gone for days.  She recalled the Douglas Hospital in the Kirby House,  remembering the maternity labor room to be in the basement and the delivery room upstairs.  She also described the Burns family IGA in Douglas (where Terry Burns grew up) on the north side of Center past Washington.   Down the street, Janet recalls, a rear building which housed a husband and wife barber team.  The old St. Peter's Church Hall and convent were on the corner of Main and Center. Just west of Every Day People's Café (where its bar is now located) was a fresh produce store run by Peter and Arlene.  Janet youngest son, Jimmy, picked wild berries and brought them to Arlene to trade.
Bob's father, Orin, who had experience in insurance, began the Wolbrink insurance business first as a desk inside of the store along with the U.S. Post Office.   He later moved the office to Holland and it expanded significantly through the years.  Bob Wolbrink followed his father into the Wolbrink Insurance Services.  After their marriage, he and Janet moved into a series of homes in Holland's near south central area as their family grew to five children. Beginning with Mary then Robert Jr., Allen, Nancy and, eventually, James. 
Bob was always interested in land near water and one day purchased a property on Lake Michigan where he and Janet had a cottage designed and constructed for their summer escapes.  Again, as their family grew, so did the cottage and their good summer memories on the lake.
One day Bob surprised Janet with his purchase of a 100 acre parcel of land several miles up the Kalamazoo River from Saugatuck between 63rd and 64th streets just west of what is now Peach Tree Creek.  The family moved from a large comfortable house in Holland to a smaller country cottage for which it was difficult to find well water.  For awhile, the dioxin coming down stream from the Plainwell paper plant had to be tolerated, but the river views more than compensated.
The couple began work on a home of their own design that would provide comfortable space of everyone, have the cedar shingle exterior that Janet wanted to blend with the woods, and a pole barn that Bob needed to house his collection of tractors and other machines and Nancy's horses.  It took many months before the house was complete enough to move into, but the family eventually enjoyed over 30 years at their house and country estate.
Bob became a "gentleman farmer" and tried his hand at raising fruit crops. Be asked several farmer friends to walk his land and they concurred that his soil was good to grow blueberries, which he did.  Bob Crane of the Crane farm in Fennville helped him graft some of his small fruit trees.  His interests, however, were not in serious farming so he kept his day job as an insurance broker.  
Boating and fishing was a large source of recreation for the family during these years, giving Janet ample time to observe and note the development along the river. She recalls that when the bridge for I96 was constructed, many back roads that accessed the river disappeared. During one of the family's annual trips to Mackinaw Island they saw an early boat lift for bringing small craft out of the water. They purchased what may have been one of the first mechanical boat lifts to use on the river.  Janet also recalls a boat house out in the river near the former Kalamazoo Lake West Marine operation (now just south of her condominium) where her children could fish and practice rowing boats.  She related a story about her children rowing out to a sunken barge with a long rope tied to their rowboat, for hours of simple entertainment.
The Wolbrink Insurance Company had thrived for three generations since 1917 in Holland when Bob Sr. retired in 1986.  At that point son, Bob Jr. and daughter, Nancy, purchased the business and continued it for several more years before it was purchased by Robert Frieling when Bob, Jr. moved on to an engineering career.  Subsequently the agency joined the Lighthouse Insurance Group in 2004.
When the children grew up and married, Bob and Janet began many adventures together on their cabin cruiser, including navigating trips to and from Florida using the Intercoastal Waterway, Hudson River, and Trent-Severn canal to and from their homeport of Saugatuck.  Bob, Sr. passed on August 15, 1996 survived by Janet, their five children and six grandchildren.  As of this date, Janet seasonally resides in the Singapore Condominiums, which provide her with beautiful views of her Beloved River.  Janet paints area scenes in oil and now mostly watercolor, a hobby she actively and skillfully pursues.  She winters in Stuart, Florida where she's made many good friends in addition to those she retains here.
<![if !vml]>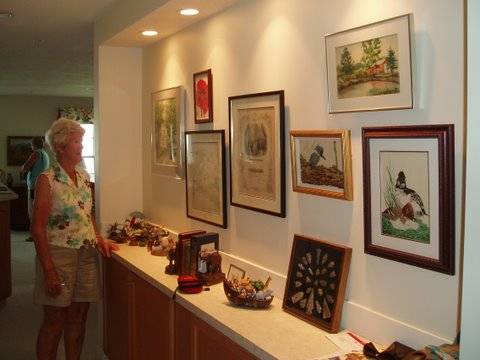 <![endif]>
<![if !vml]>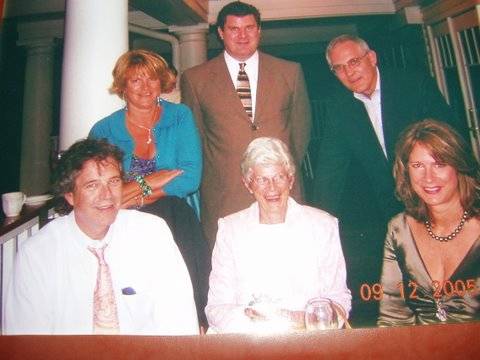 <![endif]>
(See video recording of Janet Wolbrink completed during this interview)