PUMPERNICKEL'S EATERY WITH LARRY BOTZ
<![if !vml]>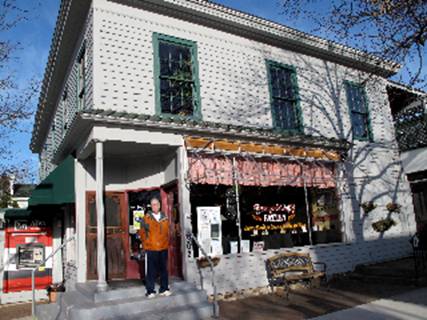 <![endif]>
<![if !vml]>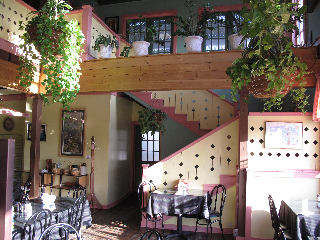 <![endif]> <![if !vml]>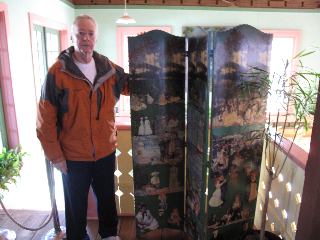 <![endif]>
On March 23, 2010, Larry Botz opened his establishment and his memory for an oral history interview. His winter schedule had the store closed on this day, so Larry graciously provided his and Pumpernickel's undivided attention.
Larry, born and raised in Taylor, Michigan, was first exposed to Saugatuck began in the late 1950s and early 1960s, when his family vacationed here. In his recorded video he shares his memories from that time.
It was while working as a camp counselor that he met his future wife, Jenny, and they married while fairly young. College at Wayne State and U. of Michigan was sandwiched between his hotel management jobs. Before arriving in Saugatuck in search of a career-changing small business, Larry was a fast track manager in a series of big hotel chains including Holiday Inn and several others as Director of Operations for J.D. Springer. His steps up this industry's ladder required moving frequently back and forth across the country.
The tragic personal loss moved he and Jenny to detour from their upward corporate spiral and to reinvent their lives. They began a search the country for a building in which to begin a food service enterprise. After a long and fruitless attempt to buy Tara in Saugatuck, they discovered the building in town they now have in a further north realty office. In 1988 Larry and Jenny purchased the building that at that time had a Kilwins annex and a small Pumpernickel's deli operation in the building. The second floor was still condemned from the 1979 fire that damaged it and destroyed the building to the North. In the early 1990's Larry began to remodel the building to its current 310 seat capacity on two floors. Further development may be in the future.
Larry describes in segment 2 how he happened to design his unique service operation to accommodate both his space and the relative inexperience of his young wait staff. He also reflects on the long list of young staff who worked and matured under his supervision; many going on to college and significant professions. In segment 3 he takes a trip down memory lane to recall the places he recalled when visiting as a youth.
In segment 4 Larry talks about his early life and education. In part 5 he examines the economic and social "roller coaster" ride over his Pumpernickel's 23 years including praise for the many local people who were supportive. Unforgettable local characters are remembered in the 6th segment. Short segments 7 and 8 cover stories of significant patrons whose photos are found on upstairs walls as well as the James Brandees original painting (9) on the stairwell wall. In segment 10, Larry explains his menu and order procedure, and in segment 11 he reviews all the prior building owners and their operations.
A slideshow was created from the numerous current photos and some archival pictures of the building.