Richard B. Newnham 1819 - 1908
<![if !vml]>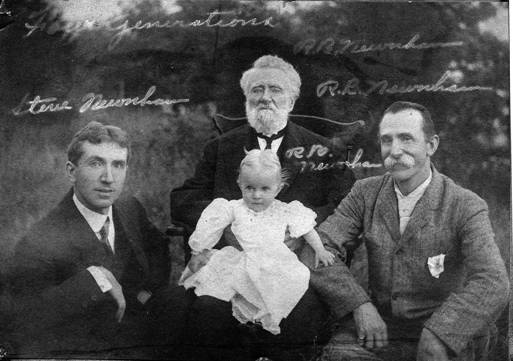 <![endif]>
-by Sylvia Booth, G-G-Granddaughter in England, Nov. 2010
<![if !supportLineBreakNewLine]>
<![endif]>
The life of Richard B. Newnham, a veteran of the civil war who settled in Saugatuck in the 1860's and that of his sons, Richard and Stephen have been well documented in publications and on the internet, giving details of their movements in England prior to starting their new lives in America, yet much of Richard's earlier life poses a mystery to me. Why? I believe Richard B Newnham and my great, great Grandfather, William Newnham, to be one and the same person. (For Newnham's American Biography click)
William Newnham disappeared from London in 1862 and Richard appeared in America in 1863.
William Newnham was born of the same parents as Richard, John Newnham and Lucy Linney and on the same day - 24th May 1819.
William Newnham married Hannah Harrison on the same day as Richard claims to have done so. William also had thirteen children with Hannah - all birth certificates name William as the father. Richard's children all had the same names and birth dates as William's - coincidence?
Richard tells the story that he was sent to his maternal Grandfather, Richard Linney, when he was ten years old to be taught the shoe trade. William was also sent to his maternal grandfather, Richard Linney to be taught the shoe trade.
Richard Linney was a Boot and shoe maker and Tavern keeper in Alton, Hampshire. However, not happy in this trade Richard states that he became a police officer. Shortly after his marriage to Hannah Harrison, William Newnham became a police officer in Hannah's home town of Longton in Staffordshire. The 1841 census records Hannah's husband as William.
On March 5th 1844 William applied to join the London Police Force and being accepted joined them on 26th December 1844. On the 1851 Census the family are recorded in London and William had became a Station Sergeant with the City Police and rose to be an Inspector by the time he was discharged on 11th November 1858. Richard was also in the London Police Force.
It has not been mentioned previously in any of the reviews on the lives of Richard or his children but maybe if Richard was William he would wish to forget the episode in Scotland. William moved his family to Renfrewshire in Scotland in December of 1858 where William became Superintendent of Police in charge of 80 men. He is recorded as giving evidence to a parliamentary review on the drinking habits of the people living in his district in August 1859 and on the 1861 census William, Hannah and their four youngest children are living at 2 Orangefield Place, Greenock. The eldest two of their surviving children are not with them. John was training to be a gas fitter and in lodgings in Shoreditch. Charlotte Hannah (my Great Grandmother) was left in London, a border at St Margaret's charity school.
In 1862, a newspaper report which has come to light, alleged William Newnham, Police superintendent of Renfrewshire, was implicated in a case of Multiplepoinding. This is a Scottish legal term. The report claims that two of William's constables seized money on his behalf which did not belong to the person owing it, and a case was brought against him. Was he guilty of this crime or did he suffer an injustice? Could this have been the reason the family suddenly returned to London in 1862 and caused William Newnham to disappear?
A Richard B. Newnham establishes himself in America. Could this be our William? Hannah and her four youngest children certainly joined him there. They are on the passenger list of The Sir Robert Peel arriving 20 Feb 1867 (Hannah travelling as Eliza Newnham) however she appears to have reverted back to her own name on arrival. Stephen's story of the voyage is on the internet and from his account it was certainly his mother that accompanied him.
<![if !vml]>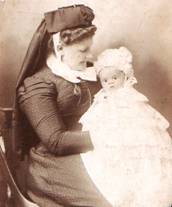 <![endif]>--<![if !vml]>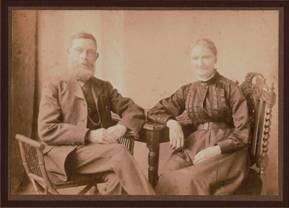 <![endif]>
Children in England-- Charlotte Newnham, Maternity Nurse
and Mary (Newnham) Frost with Husband Peter
My Great Grandmother Charlotte Hannah did not see her parents again but letters passed between her sister Mary Ann's daughter Rose and Richard's grandson Stephen Linney Newnham. Also a copy of the newspaper cutting was among Mary Ann's effects reporting on Richard's letter from America to Queen Victoria with a photograph of himself, his daughter Maria and two grandchildren Laura and Lucy to tell her that he was born within an hour of her birth on 24th May 1819, and that his daughter and twin grandchildren were also born on the same day. This cannot be coincidence! American descendants have recorded that the royal household returned a photograph of four members of the royal family--of different generations--including the Queen herself, the Prince of Wales, the Duke of York, and the infant son of the last named.
<![if !vml]>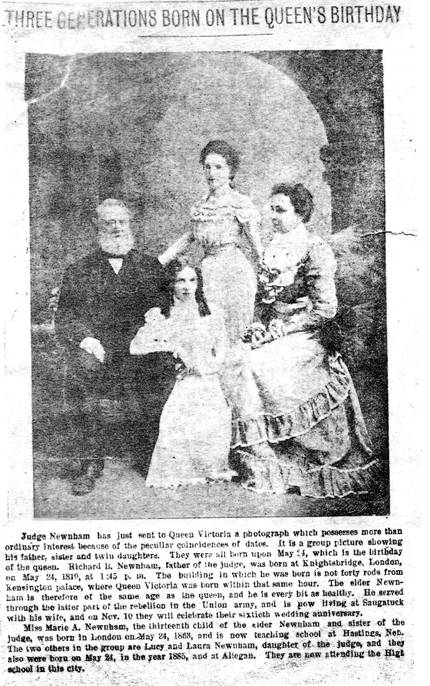 <![endif]>
Why did William change his name to Richard? Was he escaping persecution? It remains a mystery - maybe we will never know the answer!
<![if !vml]>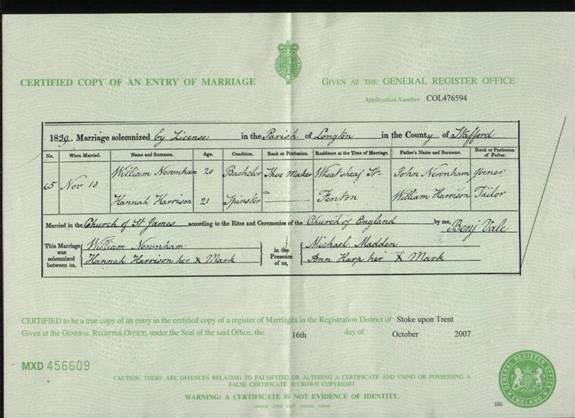 <![endif]>
Marriage Cerificate for "William" and Hannah
<![if !vml]>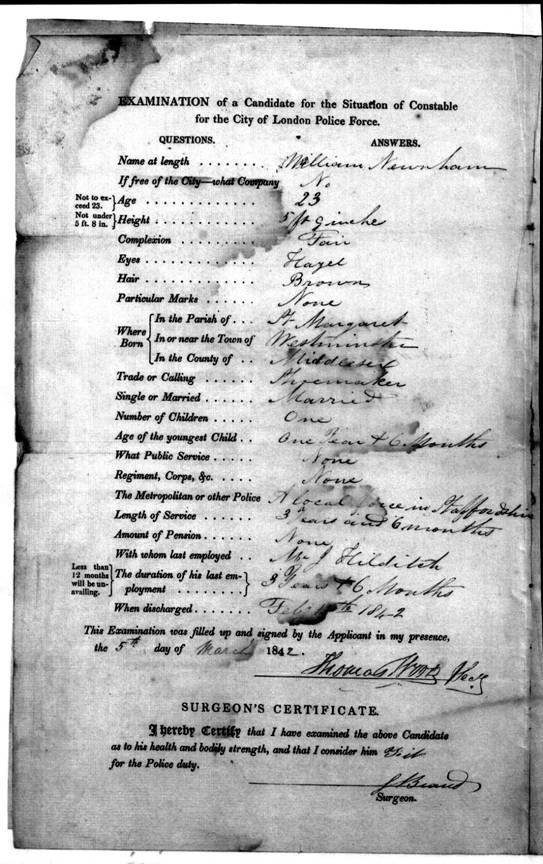 <![endif]>
1842 Application for London Police
<![if !vml]>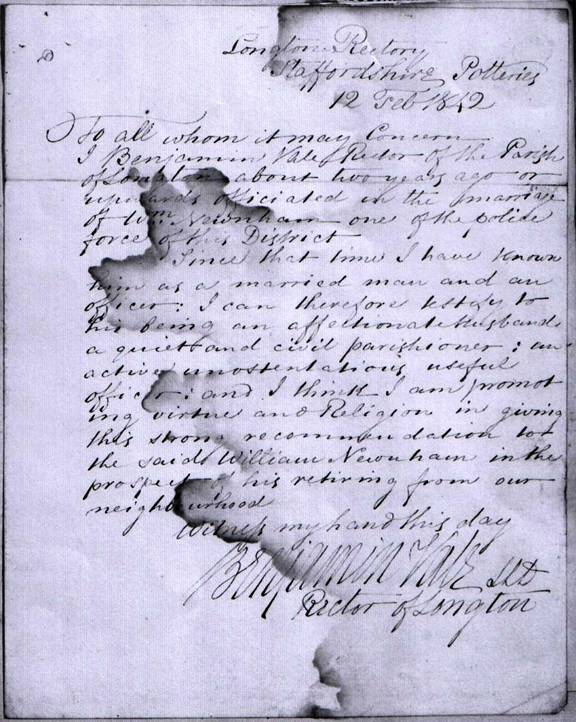 <![endif]>
Letter of Reference for "William"